Oracle EBS – Okta Single Sign On Integration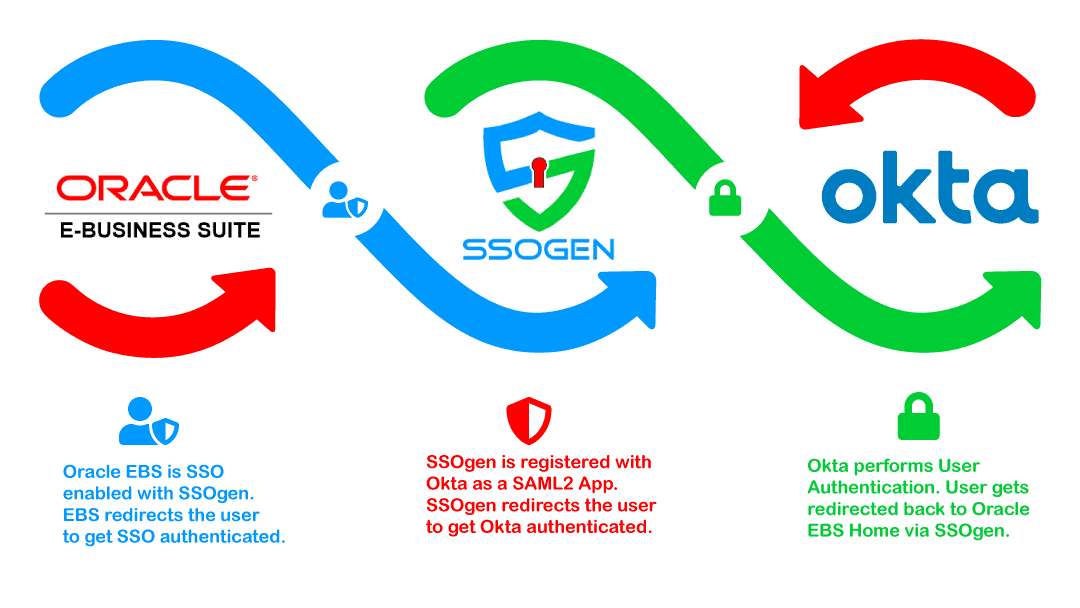 Oracle EBS and Okta SSO Integration
Oracle EBS and Okta SSO Integration is possible with a SSO Gateway. SSOGEN Gateway would be registered as a SAML 2 Service Provider in Okta and Oracle EBS would be registered with SSO. When a user logs in to EBS, user is redirected to SSOGen, which in turn sends the user to Okta Single Sign On – SSO Login. Okta Authentication would either perform Kerberos, Windows Native Authentication, or form based login based on its configuration. Upon a successful authentication, User is sent back to Oracle EBS Home Page seamlessly.
The end user login experience would be pretty much similar to another Okta protected Applications. There are no limitations on Okta Authentication Schemes for this. Oracle EBS can be protected with Okta Multi-Factor Logins as well. Oracle EBS URL can be added to Okta Applications Dashboard by Okta Admin, and end users can launch it like another Okta Application.
Oracle APPS 11i, R12.1, and R12.2
Okta Cloud SSO can be enabled for Oracle EBS – Oracle APPS 11i, R12, and R12.2. Oracle EBS integrations such as OBIEE, Hyperion/EPM Suite, ADF Applications, WebCenter, Agile would also be SSO enabled with Okta SSO.
Peoplesoft, Siebel, and JD Edwards
Other Oracle Products such as Peoplesoft, Siebel, and JD Edwards can be SSO enabled with Okta Cloud SSO through SSOgen Gateway.
OAM and OID are not necessary

With SSOGEN Gateway Solution, Oracle Access Manager – OAM and Oracle Internet Directory – OID are not required for Okta and Oracle Integrations.


How to enable SSO in Oracle EBS?
Please read more about Oracle EBS SSO Integration the following link.
Oracle EBS SSO Integrations
Read more about Oracle EBS SSO Integrations from the following links
Other SSO Integrations
Learn more about other SSO Integration options with Oracle EBS
Questions? Leave a Comment Below!
Request More Info
Contact us to request More Information, Demo Webinar, and Free Trial Access for 30 days.
Request a Quote
Request a quote for your environment and SSO use case. Our pricing is affordable for all businesses.
Customer Reviews
We would appreciate your feedback, thank you!
We appreciate your feedback. Click to rate this product/article.