OpenID Gateway SSO Solution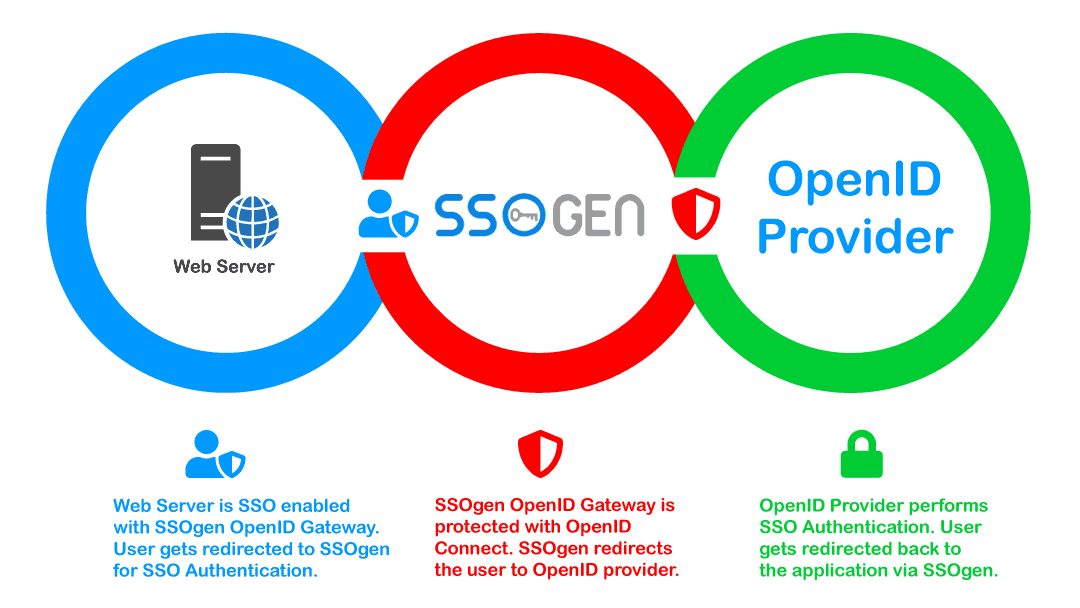 What is OpenID Gateway?
OpenID Gateway extends OpenID Provider authentication to applications that do not support OpenID Connect.
OpenID Gateway would be configured with OpenID Connect and its registered with OpenID Provider. User application is SSO configured with SSOgen OpenID Gateway with a web server plugin, similar to CA Siteminder WebAgent. While OpenID Gateway acts as a openid connect with OpenID Provider, Web Server plug-in enforces policies and SSO authentication for the user application.
SSOgen OpenID Gateway also offers additional security such as free multi factor authentication, after a successful authentication by OpenID Provider.
SSOgen OpenID Gateway does not require user stores such as Oracle Internet Directory – OID for Oracle EBS SSO Integration.
How does OpenID Gateway work?
When a user enters into the user application, user is redirected to OpenID Gateway for authentication. OpenID Gateway in turn sends the user to OpenID provider for authentication. OpenID provider collects the credentials from the user using a SSO Login form and performs SSO Authentication. Upong a successful authentication, the user is then redirected back to application via OpenID Gateway.
OpenID Connect
OpenID Connect is configured on OpenID Gateway.


Enable SSO
Install and Configure SSO Agent, Web Server Plug-in to protect Application URIs.

MFA
Optionally enable step up, multi factor authentication at OpenID Gateway.


SSO Supported Applications with OpenID Gateway
SSOgen OpenID Gateway supports SSO authentication for most of the enterprise applications. A few good use cases are Oracle EBS, PeopleSoft, JDE, and SAP.
$0 Software Licensing Costs
High Availability Included
Disaster Recovery Included
Free Multi Factor Authentication
Complete SSO and a flexible SSO and SAML Gateway
SSOgen is a complete SSO Solution with MFA that works with many LDAP Servers. SSOgen is also a flexible SSO Gateway, IdP SAML Gateway, SP SAML Gateway, Okta SPGW, and OpenID Gateway with most of the popular SSO solutions.
Questions? Leave a Comment Below!
Request More Info
Contact us to request More Information, Demo Webinar, and Free Trial Access for 30 days.
Request a Quote
Request a quote for your environment and SSO use case. Our pricing is affordable for all businesses.
Customer Reviews
We would appreciate your feedback, thank you!