PeopleSoft SSO – Single Sign On Solution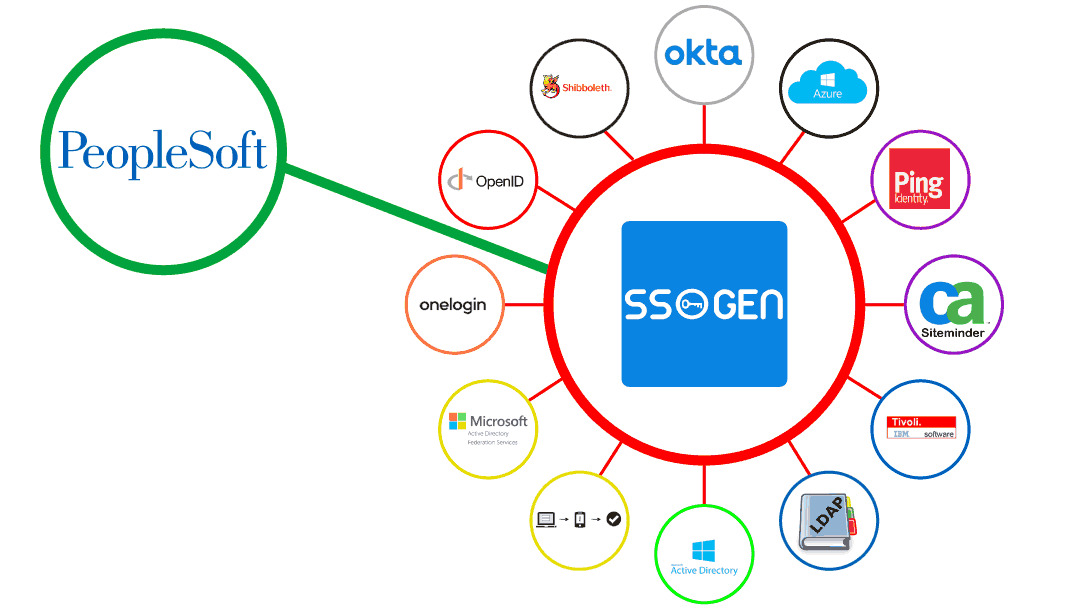 Why is PeopleSoft SSO important?
PeopleSoft SSO is most desired for PeopleSoft Portal implementations, as PeopleSoft Portal is the central and unified interface to access other PeopleSoft Applications, such as HCM or CRM. PeopleSoft SSO authenticates the user during the first login to PeopleSoft Portal, then allows the user to access other PeopleSoft Applications without forcing the user to login to the each application over and over. Therefore, SSO is a must have for PeopleSoft Applications.
Security Concerns with PS_TOKEN – TokenChpoken Attack
Oracle PeopleSoft offers Single Sign On – SSO out of the box to offer the better user experience for its customers. This out of the box PeopleSoft SSO uses PS_TOKEN cookie to store the user or session information to pass from PeopleSoft Application to another.
PS_TOKEN cookie stores confidential information such as UserID – Name of the Authenticated User, Node Name – Node Name Authenticated the user, Date And Time – when the PS_TOKEN was issued, and SHA Signature in base64 encoded.
According to ERPScan report about Oracle PeopleSoft vulnerabilities, PeopleSoft Applications are susceptible to the TokenChpoken attack, which affects systems that use Single Sign On SSO, is possible because an PS_TOKEN Authentication cookie used by PeopleSoft Applications can be forged. When the PS_TOKEN is identified by a "brute force" TokenChpoken attack, it is possible to log in under a system account and gain access to all data from the compromised system. Read more at:
 ERPScan Security Report about PeopleSoft Security Vulnerabilities
 PeopleSoft Wikipedia
 Understanding PeopleSoft Single Sign On
Solution for PS_TOKEN TokenChpoken Attack Vulnerability
Disable out of the box SSO from PeopleSoft to eliminate PS_TOKEN completely.
Enable External SSO for PeopleSoft with solutions such Microsoft Azure, CA Siteminder, Okta, Oracle Access Manager, and SSOGEN.
Enable Multi Factor Authentication – MFA for PeopleSoft Applications
Enable External SSO for all PeopleSoft Applications for seamless access
How to enable PeopleSoft Single Sign On?
Reverse Proxy
Configure Apache or Oracle HTTP Server Reverse Proxy to front-end all the PeopleSoft Servers, proxying /psp/, /ps, /psc, amd /cs URIs.


Disable Direct Access
Ensure that all the traffic is routed through the above webserver and Disable direct access to PeopleSoft Server URLs.


Enable External SSO
Enable SSO at Web Server – Reverse Proxy and Configure SSO in PeopleSoft. Header Injection and Cookie forgery are completely eliminated.


PeopleSoft SSO Integration with LDAP Servers
PeopleSoft SSO Integration with SSOGEN opens up multiple options. Through SSOgen, PeopleSoft is SSO enabled with Windows Native Authentication – WNA or Kerberos or Desktop Authentication or Zero Touch SSO, and most of the Directory Servers – LDAP Version 2 and LDAP Version 3 servers. A quick list of PeopleSoft LDAP SSO Integration possibilities with SSOgen:
PeopleSoft Active Directory Authentication
PeopleSoft RadiantLogic Authentication
PeopleSoft UnboundID LDAP Authentication
PeopleSoft OpenDS Authentication
PeopleSoft OpenDJ Authentication
PeopleSoft CA Directory Authentication
PeopleSoft IBM Directory Authentication
PeopleSoft NetIQ Authentication
PeopleSoft OpenLDAP Authentication
PeopleSoft SLAPD Authentication
PeopleSoft 389 Directory Server Authentication
PeopleSoft Apache Directory Authentication
PeopleSoft OUD Authentication
PeopleSoft ODS Authentication
PeopleSoft SSO SAML Integrations
SSOGEN supports SAML IDP v1, SAML IDP v2, OpenID Providers for PeopleSoft Applications. With SSOgen Integration, PeopleSoft would be easily integrated with other SSO Solutions such as Okta, Oracle Identity Cloud Services – IDCS, OneLogin, Azure SSO, Azure ADFS, Microsoft ADFS, PingFederate, Shibboleth, OpenID Providers, and other popular SSO Solutions such as CA Siteminder, IBM Tivoli Access Manager, and Oracle Access Manager, and many more.
PeopleSoft Okta Integration
PeopleSoft OneLogin Integration
PeopleSoft Shibboleth SAML Integration
PeopleSoft PingFederate Integration
PeopleSoft Integration with IDCS
PeopleSoft Azure ADFS Integration
PeopleSoft Microsoft ADFS Integration
PeopleSoft Siteminder Integration
PeopleSoft Integration with IBM Tivoli AM
PeopleSoft NetIQ Integration
SSOgen Unique Benefits
Learn more about the only FREE Multi-Factor Authentication for PeopleSoft Applications
PeopleSoft SSO Configuration
Logon to Peoplesoft Console http://ps.example.com:8000/psp/ps/?cmd=start using Admin credentials(Example: PS/PS).
Navigate to Peopletools >> Security >> User Profiles >> User Profiles to create a new user profile, for example: OAMPSFT and Add Peoplesoft User.
Peopletools >> Security >> Security Objects >> Signon PeopleCode – Uncheck all options and check 'OAMSSO_AUTHENTICATION'.
In Application Designer, Click Open and Select 'Record', and Open 'FUNCLIB_LDAP' and click Open.
Update Peoplecode of LDAPAUTH for getWWWAuthConfig() function to update defaultUserID to OAMPSFT that we have just created.
Update the user Header with PS_SSO_UID for OAMSSO_AUTHENTICATION function. SSOGEN_USER is another header variable, which is good for this function. SSOGEN_USER is available out of the box for SSOgen Integrations.
Restart PeopleSoft Services and perform SSO Login use cases.
Function OAMSSO_AUTHENTICATION()
   If %PSAuthResult = True And
         &authMethod <> "LDAP" And
         &authMethod <> "WWW" And
         &authMethod <> "OSSO" And
         &authMethod <> "SSO" Then
      getWWWAuthConfig();
      If %SignonUserId = &defaultUserId Then
         &userID = %Request.GetHeader("PS_SSO_UID");
         If &userID <> "" Then
            If &bConfigRead = False Then
               getLDAPConfig();
            End-If;
            SetAuthenticationResult(True, &userID, "", False);
            &authMethod = "OAMSSO";
         End-If;
      End-If;
   End-If;
End-Function;

Questions? Leave a Comment Below!
Request More Info
Contact us to request More Information, Demo Webinar, and Free Trial Access for 30 days.
Request a Quote
Request a quote for your environment and SSO use case. Our pricing is affordable for all businesses.
Customer Reviews
We would appreciate your feedback, thank you!