Oracle EBS SSO Integration with Azure AD, Azure ADFS or Azure SSO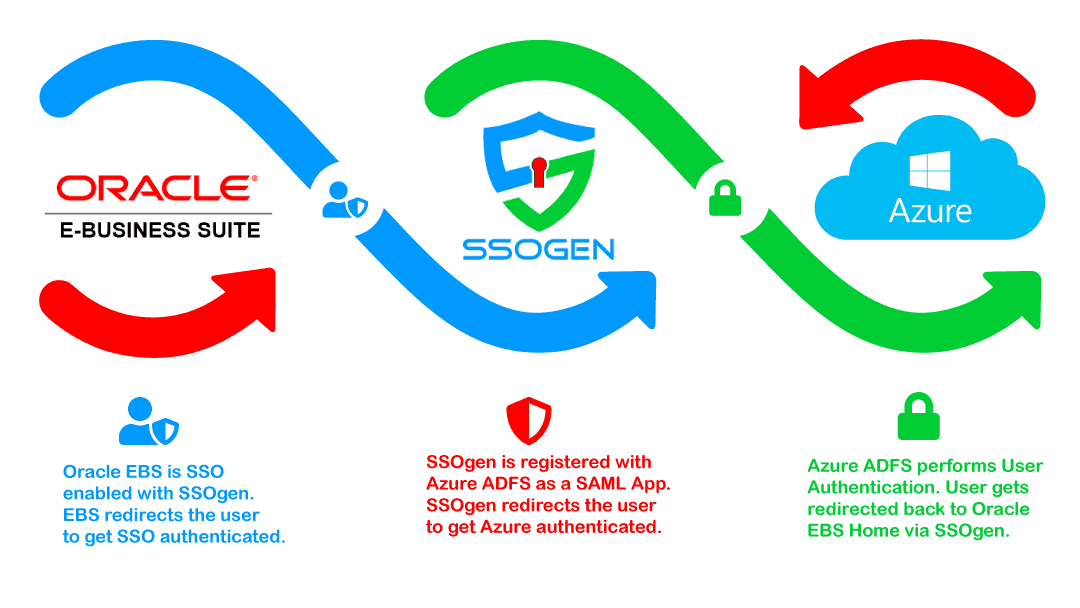 Azure AD (Azure ADFS) Single Sign On for Oracle EBS
Oracle E-Business Suite – EBS can be successfully integrated with Azure AD, Azure ADFS, Azure SSO, Azure Active Directory in Microsoft Azure Cloud with an SSO Gateway, SSOGEN. Azure SSO offers Active Directory Federation Services – ADFS SAML services for SSO Integrations. As Oracle E-Business Suite – EBS – Oracle Applications 11i, R12, and R12.2 does not support SAML directly, the need for a gateway raises. SSOgen would act a gateway between Azure ADFS – Azure SSO and Oracle EBS. SSOgen is capable of talking SAML with Azure ADFS , and it would be registered with Azure ADFS as a service provider. SSOgen adds more security such as Multi-Factor Authentication – MFA after a successful Azure ADFS SSO Login as well.
In addition to SAML integration with Azure ADFS, SSOgen is capable of integrating with Azure Active Directory – AD directory for LDAP lookup with a login form authentication or Kerberos – Windows Native Authentication.
The end user login experience would be pretty much similar to that of another Azure ADFS protected Application. There are no limitations on Azure ADFS Authentication Schemes for this. Oracle EBS can be protected with Azure ADFS Multi-Factor Logins as well. The SSOgen would be transparent to the end users.
Oracle APPS 11i, R12, and R12.2

Azure ADFS SSO can be enabled for Oracle EBS – Oracle APPS 11i, R12, and R12.2. Oracle EBS integrations such as OBIEE, Hyperion, EPM Suite, ADF Applications, WebCenter, and Agile would also be SSO enable seamlessly.
Peoplesoft, Siebel, and JDEdwards
PeopleSoft, Siebel, JDEdwards, and SAP can be SSO integrated with Azure ADFS SSO as well. But also, Cloud Applications such as Salesforce and Service-Now can be SSO registered with SSOgen as well.
OAM and OID are not necessary
Oracle Access Manager – OAM and Oracle Internet Directory – OID are not necessary for Oracle and Azure ADFS SSO Integrations with Oracle E-Business Suite – EBS versions 11i, R12, and R12.2
How to enable SSO in Oracle EBS?
Please read more about Oracle EBS SSO Integration the following link.
Oracle EBS SSO Integrations
Read more about Oracle EBS SSO Integrations from the following links