Oracle EBS Siteminder SSO Integration for Oracle Apps 11i and R12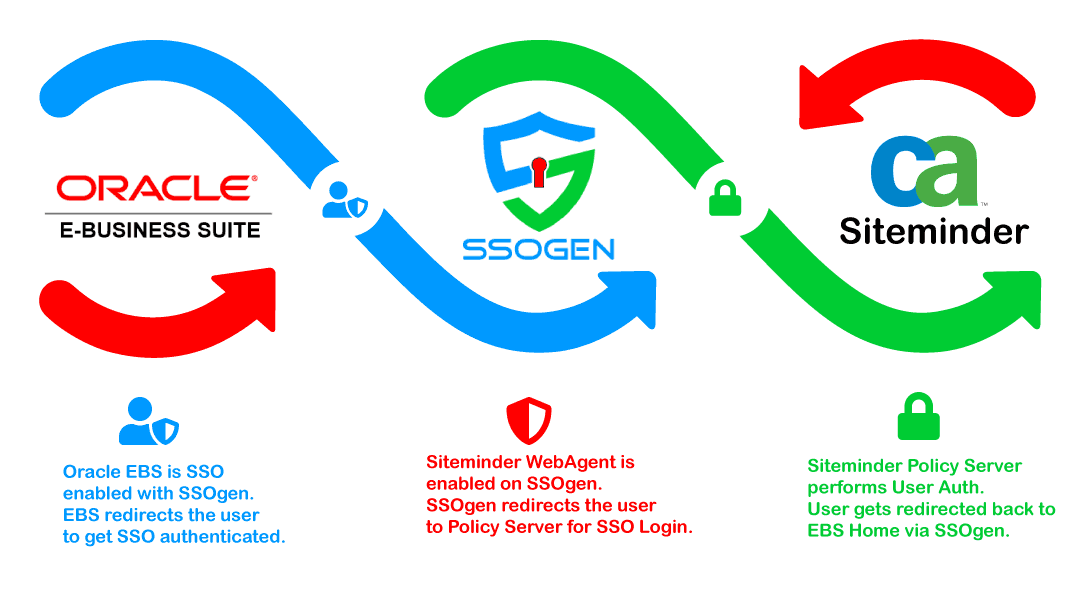 Oracle EBS Siteminder SSO Integration
Oracle EBS – Siteminder SSO Integration is now possible with a SSO Gateway from SSOGEN. CA Siteminder 5, 6, and r12.x are supported for Oracle EBS 11i, R12, and R12.2. SSOGEN would act as a gateway between CA Siteminder and Oracle EBS. SSOGEN would have an CA Siteminder WebAgent, and it would read Siteminder session – SMSESSION, and SM_USER user token and seamlessly work with Oracle EBS to complete the SSO Login Process.
Users can access Oracle EBS seamlessly from other SSO enabled applications without having to login again. Seamless access from Oracle EBS to other SSO enabled Applications is also guaranteed.
Oracle Access Manager (OAM), Oracle Internet Directory (OID), and Oracle Unified Directory (OUD) are not required for SSOGen Integration. This solution does not require CA Federation SAML Services in Siteminder.
The end user experience would be similar to that of another Siteminder SSO protected Application. SSOgen is completely transparent during the login process in this case.
Oracle APPS 11i, R12, and R12.2
CA Siteminder SSO can be enabled for Oracle EBS – Oracle APPS 11i, R12, and R12.2. Oracle EBS integrations such as OBIEE, Hyperion/EPM Suite, ADF Applications, WebCenter, Agile would also be seamlessly SSO Integrated with Siteminder.
Peoplesoft, Siebel, and JD Edwards

Other Oracle Products such as Peoplesoft, Siebel, and JD Edwards can be SSO enabled with Siteminder through SSOgen Gateway




OAM and OID are not necessary

With SSOGEN Gateway Solution, Oracle Access Manager – OAM and Oracle Internet Directory – OID are not required for Siteminder and Oracle Integrations.



How to enable SSO in Oracle EBS?
Please read more about Oracle EBS SSO Integration the following link.
Oracle EBS SSO Integrations
Read more about Oracle EBS SSO Integrations from the following links