Oracle EBS SSO Integrations for Oracle EBS 11i, R12, and R12.2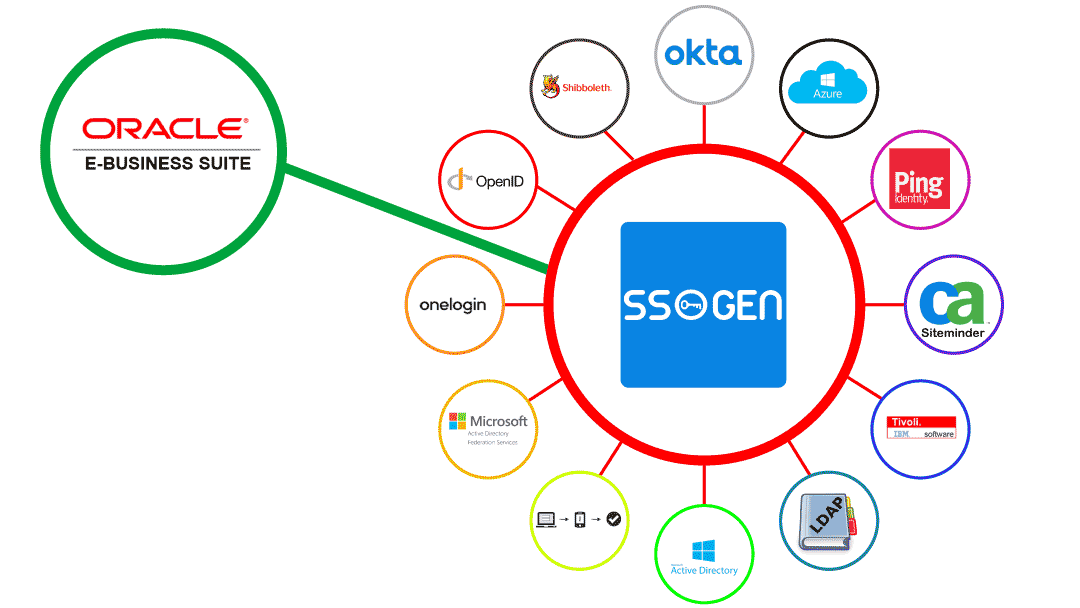 Oracle EBS SSO Integration with other SSO Solutions
Oracle EBS SSO is highly recommended for Improved Oracle EBS Security and Better User experience. SSO is a mandatory requirements for IT Security Audits in Oracle e-Business Suite.
Oracle EBS SSO is traditionally enabled with Oracle Access Manager – OAM and Oracle Internet Directory – OID. Our NextGen SSO Solution, SSOgen is tightly integrated with Oracle EBS with additional SSO use cases. SSOgen is an Oracle Validated Integration for Oracle EBS. With SSOgen SSO Solution, OAM and OID are not required for Oracle EBS SSO.
SSOgen is not only a cost-effective solution, but also deployed in minutes. Traditional SSO Implementation challenges of procuring SSO Software, Hardware, longer implementation cycles, and run-time issues such as Production SSO Outages are solved with SSOgen Solution, right out of the box.
Why is Oracle EBS SSO important?
Users don't have to remember dozens of passwords for Oracle e-Business Suite – 11i, 12.1, and 12.2.
Weak passwords in Applications are no longer allowed. Welcome123 and Oracle123 are the most popular weak passwords in Oracle EBS.
Access to Oracle EBS is terminated instantly, when an employee/contractor leaves. This is a requirement Audit requirement.
Passwords alone are not secure enough these days, multi-factor authentication is a must have for Oracle EBS today.
Enforce user to change SSO password periodically to follow security guidelines.
Users don't have to login multiple times, resulting in a better productivity and better user experience.
EBS Password reset calls to Helpdesk would be greatly reduced, and Oracle EBS Support teams are relieved.
IT Security Audits such as SoX, HIPAA demand Single Sign On for Oracle EBS 11i, R12, and 12.2.
Users don't have to remember Applications URLs anymore, as URLs change from time to time.
Why SSOgen for Oracle EBS?
SSOgen offers NextGen Technology for Oracle EBS, yet it's the Price Leader.
Oracle EBS SSO – Gateway Options
SSOgen supports SSO Gateway, SAML Gateway, and OpenID Connect Gateway Solutions. With SSO Gateway, SSOgen enables CA Siteminder, IBM Tivoli Access Manager – TAM, Oracle Access Manager – OAM authentication to Oracle EBS.
SAML SP Gateway enables Okta, Oracle Identity Cloud Services – IDCS, OneLogin, Azure SSO, Azure ADFS, Microsoft ADFS, PingFederate IdP SSO Solutions for Oracle EBS 11i, R12, and 12.2.
In addition to delegating the authentication to the other SSO systems, SSOgen is capable of adding multi factor authentication – MFA for Oracle EBS on top of the delegated SSO.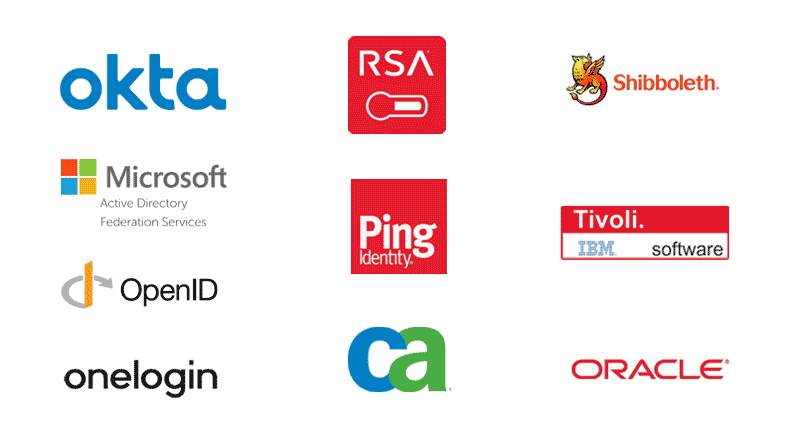  Okta
 Azure SSO
 Microsoft ADFS
 CA Siteminder
 PingFederate
 OneLogin
 Shibboleth
 NetIQ SSO
 OpenID
 IBM Tivoli AM
Oracle EBS SSO – LDAP SSO Options
SSOgen supports Windows Native Authentication – WNA, Kerberos, Desktop Authentication (Zero Touch SSO), which enables User to access Oracle EBS without having to explicitly login to EBS. Desktop Authentication uses Network/Domain Login for Authentication. Kerberos is still secure and convenient for the users.
SSOgen supports LDAP Authentication with the customer User Directory such as Microsoft Active Directory in real-time (i.e. no need to synchronize the users and passwords).
In addition to LDAP SSO, SSOgen also performs multi factor authentication for Oracle EBS for critical environments. Here is a quick list of compatible LDAP Directory Servers for Oracle EBS.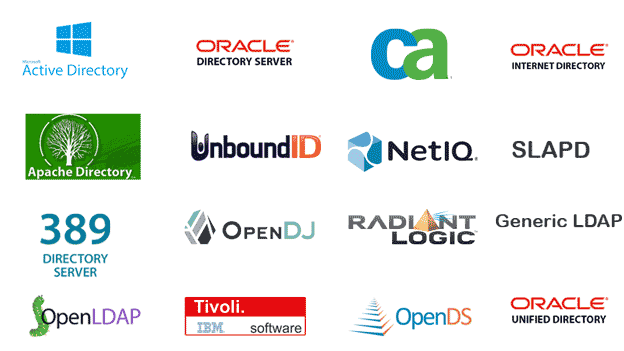  Active Directory
 RadiantLogic
 UnboundID
 OpenDS
 OpenDJ
 OpenLDAP
 CA Directory
 IBM Directory
 NetIQ
 389 Directory Server
 Apache Directory
 Oracle Internet Directory
 Oracle Directory Server
 Oracle Unified Directory
 Any Generic LDAP Server
Oracle EBS SSO Integrations
Read more about Oracle EBS SSO Integrations from the following links