SSO NextGen for Oracle EBS, PeopleSoft, JDE, and SAP
NextGen SSO Solution that protects both internal and cloud applications with the lowest possible spend, offers the best user experience, and provides unlimited possibilities to integrate with other SSO solutions.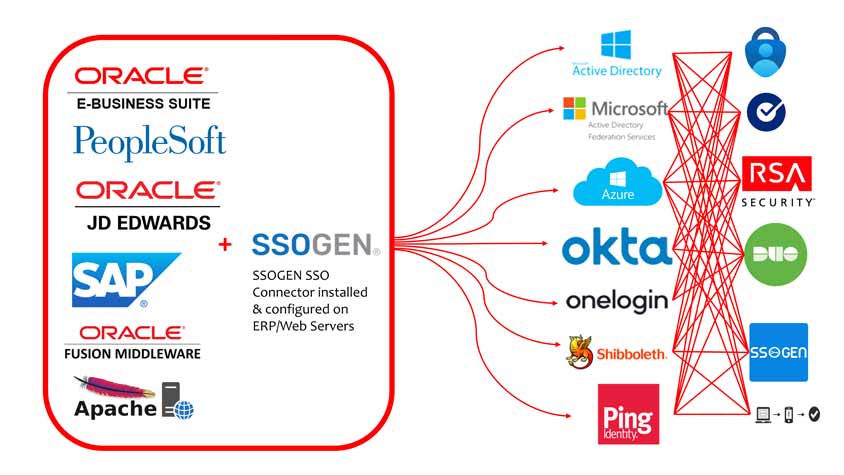 Complete SSO
Advanced SSO Solution with LDAP, LDAP + MFA, and Kerberos Authentications.
SSOGEN Gateways
SSO Gateway, SAML Gateway, OpenID Gateway, and Azure AD Gateway.
ERP Connectors
Specially built ERP Connectors for Oracle EBS, PeopleSoft, JDE, and SAP ERP Systems.
Free MFA
Most Secure Multi Factor Authentication is made available free to our customers.
Many fortune 500 companies depend on SSOGEN for mission critical systems' security.

Advanced Authentication
Highly Secured Authentication with tons of integrations with other SSO systems.
Multi Factor Authentication
Multi Factor Authentication is readily available for the most secured applications.
SAML IdP
SAML 1.0 and 2.0 IdP are supported for Cloud SaaS Applications.
Mobile Applications
Out of the box support for Mobile Applications.
Single Sign-On
Seamless SSO between both on-prem and cloud applications
Cost Savings
Pay As You Go licensing with $0 Capex, and free Multi Factor Authentication.
Robust LDAP Store
Dedicated, Highly Scalable and Secured LDAP Store
LDAP 3.0
Built on the standards with LDAP version 3.0 and version 2
High Availability
High Availability and Disaster Recovery are out of the box.
NextGen SSO
Deployed in minutes, fully automated, state of the art ERP connectors and authentications.
Pay As You Go
Optimized Cost Model: Pay for what you use and the cost leader in the industry.
Exceptional Support
Our team brings in 20+ years of experience in ERP SSO space.
Why is Single Sign On Important?
Better User Experience
Users don't have to remember dozens of passwords
Strong IT Security
Weak passwords in Applications are no longer allowed
Multi Factor Authentication
A password alone is not secure enough today
Increased Productivity
Users don't have to login multiple times to applications
No Password Lockouts
Password reset calls to Helpdesk would be greatly reduced
SSO Portal
Users don't have to remember Applications URLs anymore
Audit Compliance
IT Security Audits demand Single Sign On Logins
Centralized User Management
Access to multiple applications is terminated instantly
Enforce Password Policies
Enforce users to change SSO password periodically